About us
Golden Lotus Chinese Restaurant is strategically located at 20 Adelaide East Gosford NSW. We have a variety of specialties such as the Peking Duck, Sang Chow Bow, Seafood in Birds Nest, Seafood Combination, Princess Prawns, Imperial Prawns, Fillet Steak Chinese Style, Pepper Fillet Steak, Garlic Combination, Mongolian Lamb, Mongloan Chicken, Satay Chicken and more. We also offer soup, steak, pork, chicken, seafood, chow mein, and duck dishes. We provide pick up as well as delivery services on a daily basis. In addition, we can accept your online orders by simply clicking on the "Order Online� button. What are you waiting for? Pay us a visit to know why we are the best in Chinese cooking.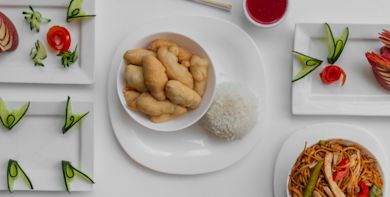 Reviews
Amanda
"very nice fresh food. Would buy from again."
25/01/2020
Robyn
"Always amazing food"
18/01/2020